Wieland Moellersdorf Ges.m.b.H.
Wieland Moellersdorf Ges.m.b.H. was founded in 1870, acquired by Wieland in 1998 and is Austria's leading service centre for copper tubes, joining technology and semi-finished products made of copper and copper alloys. The company's own fleet of vehicles is used to supply partners from wholesale, industry and refrigeration/air conditioning.
Own transportation fleet
Delivery reliability
Organization
Wieland Moellersdorf Ges.m.b.H.
Lützowgasse 12-14
1140
Wien
Austria (
UTC+1
)
Business hours
Monday - Tuesday
7:30 am - 12:00 pm
12:30 pm - 4:30 pm
Wednesday - Thursday
7:30 am - 12:00 pm
12:30 pm - 4:00 pm
Friday
7:30 am - 1:00 pm
Goods acceptance times
Monday - Thursday
7:30 am - 12:00 pm
12:30 pm - 4:00 pm
Friday
7:30 am - 12:00 pm
Products
Our products at a glance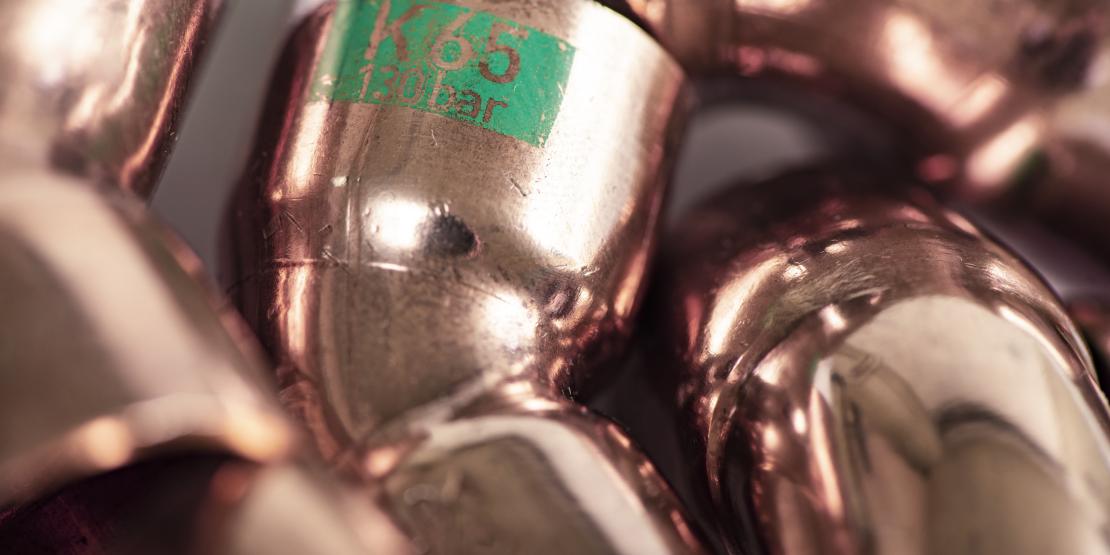 Solder fitting
For connoisseurs of the plumbing and heating trade, the Conex | Bänninger >B< is a trademark that has stood for safety, quality and innovative products since 1909.
Fittings made of copper from Conex | Bänniger of the 5000 series: this material is oxygen-free and contains a copper mass fraction of at least 99.90%. It has excellent soft and hard solderability.
Gunmetal fittings from Conex | Bänniger of the 4000 and 3000 series: the gunmetal alloy of the cast fittings fully complies with the requirements of the new EN 1982 and can therefore be used for drinking water in accordance with ÖNORM
B 5014-3. The alloy offers the highest possible protection and has good soft and hard solderability.
CONEX clamping ring connectors
CONEX clamping ring connectors belong to the group of metal-sealing plain pipe connections and consist of fitting body, clamping ring and union nut. The tubes to be connected are pushed through the pre-assembled connection into the fitting body as far as it will go and the union nut is tightened by hand. The union nuts are tightened with commercially available tools or with the CONEX wrench. In the process, the compression ring deforms and forms the metallic sealing connection between the tube and the fitting.
>B< Press Fitting and >B< Press Gas Fitting
With the current >B< Press connection technology made of material copper and gunmetal, we offer another highly economical installation technology. >B< Press Fittings series P4000 and P5000 have been specially developed for the field of plumbing and heating installation and can also be used for many other applications. The >B< Press Fittings range includes over 300 different items in copper and gunmetal materials. The >B< Press Gas Fittings series PG4000 and PG5000 have the quality mark certificate no. G 2.692 for gas.
>B< Oyster
The high quality transition coupling >B< Oyster made of gunmetal allows a quick, clean and economical assembly of all screwed components with internal thread. Application in the fields of drinking water, rainwater, heating, oil-free compressed air and in industry. The cold and energy-independent connection technology is particularly suitable for installation in areas at risk of fire. >B< Oyster are detachable and reusable.
| Wieland | EN Designation | EN No. | ASTM UNS-No. | JIS-No. |
| --- | --- | --- | --- | --- |
| K08 | Cu-OFE | CW009A | C10100 | |
| K12 | Cu-HCP | CW021A | C10300 | |
| K20/K21/K28 | Cu-DHP | CW024A | C12200 | |
| K30 | Cu-OF | CW008A | C10200 | |
| K32 | Cu-ETP | CW004A | C11000 | C1100 |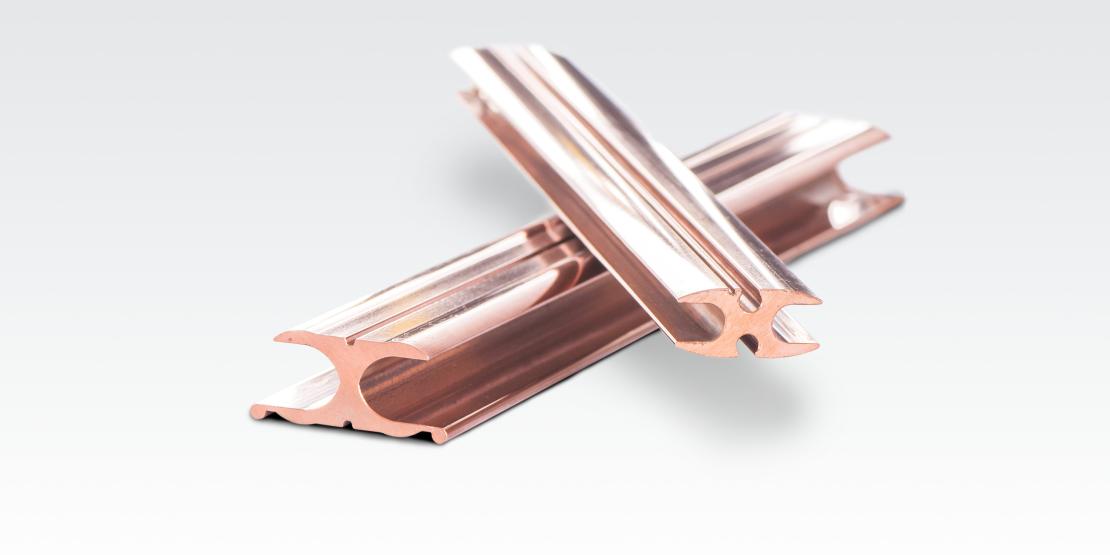 Wieland manufactures solid and hollow copper sections in a wide range of sizes. Featuring contours close to the final geometry, these sections help you obtain your finished parts in just a few operations. Together with you, we develop complex sections of copper from the draft to the initial prototypes to series production.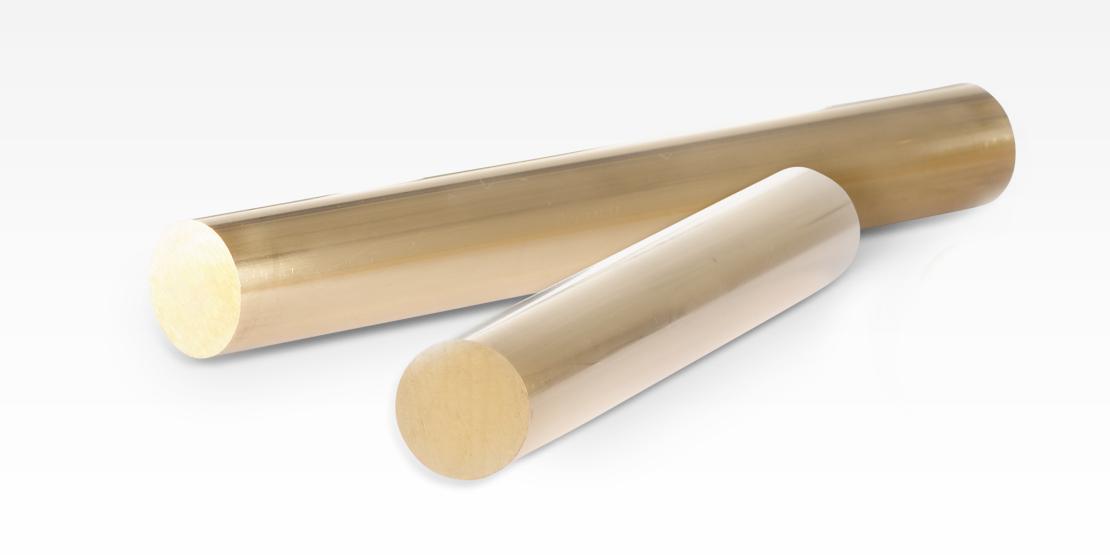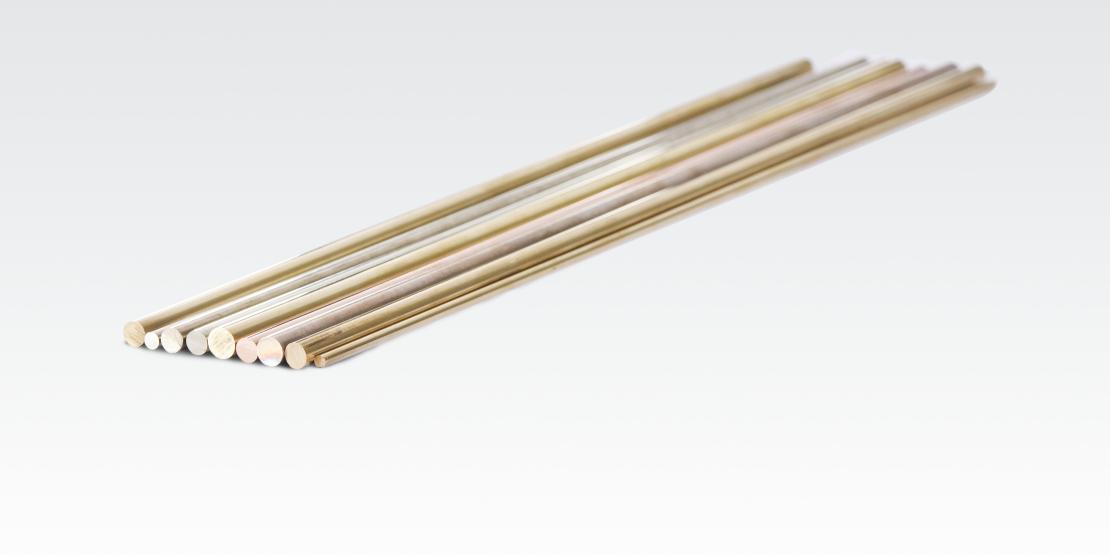 The Wieland WICONNEC brand offers a range of copper materials in the form of rods and wires that are ideal for machined sockets and pins for plug connectors. This material portfolio also offers brass materials in addition to specially developed copper alloys for complex turned plug connectors.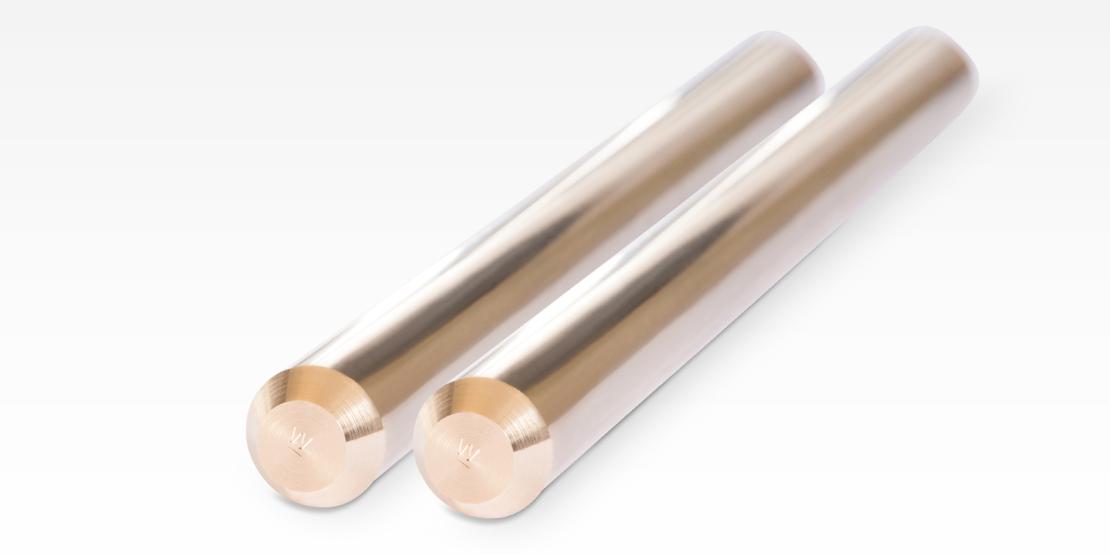 Wieland recognized the potential of environmentally friendly, lead-free machining brass at a very early date, and adopted the pioneering role in Europe by developing ECOBRASS. This proved to be a farsighted course into the future. Today, ECOBRASS is marketed worldwide over a cooperation network and available, even in smaller quantities, from trade partners. We also market this material under the name "CUPHIN" for sanitary products.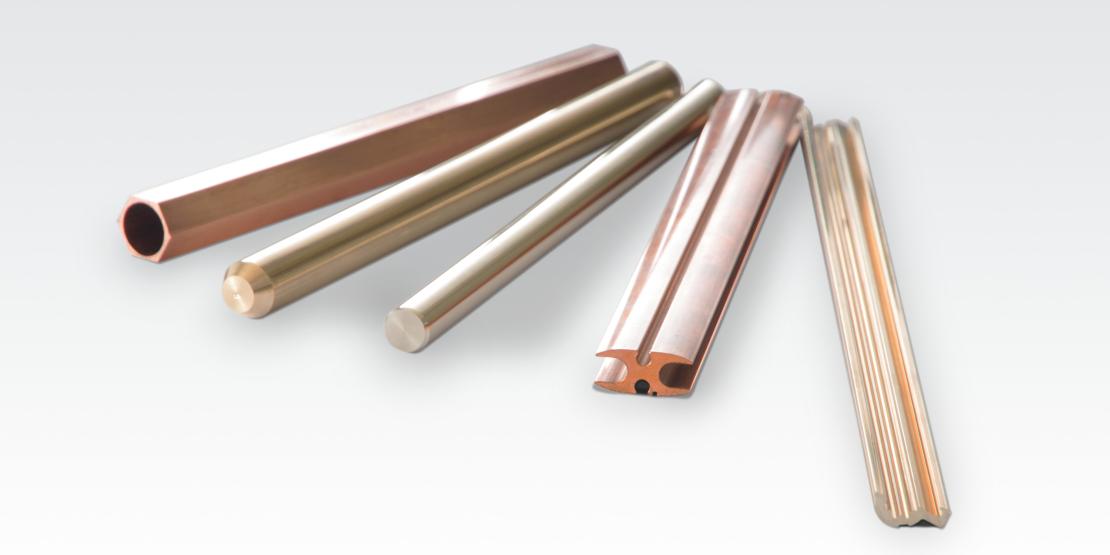 Wieland ecoline is our answer to enable your future business: the lead-free product line fulfills your individual needs for an efficient production and future oriented product development. And is, of course, compliant with the latest requirements of legislative directives on lead-free materials.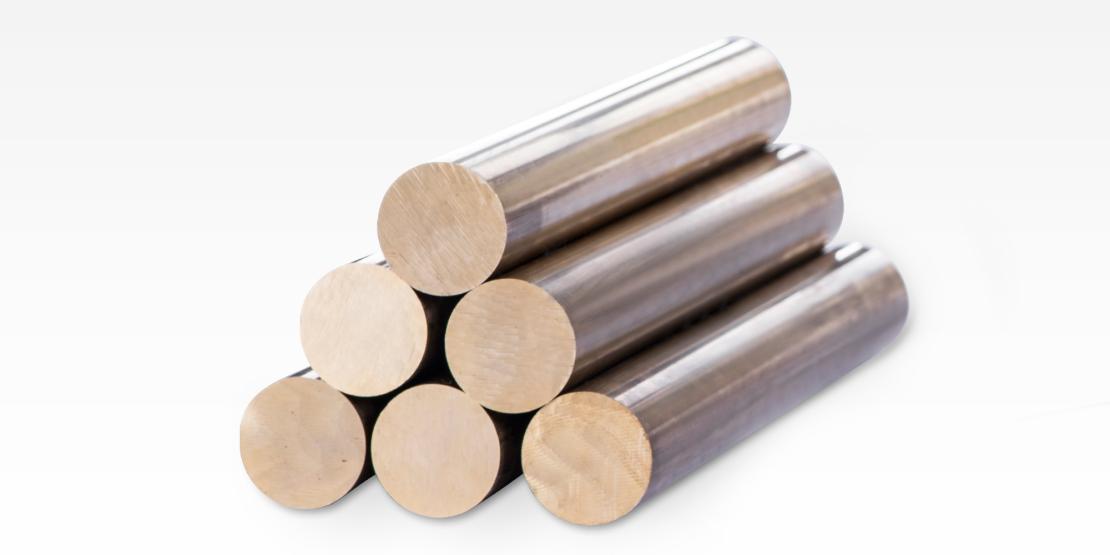 Wieland hot stamping rods
Good forging results can be obtained only when all links in the process chain have been matched to each other to the optimal effect. With Wieland hot stamping rods you are offered a forging stock which comprehensively fulfils these requirements. Your benefits: uniform dark surface for reproducible processing properties, tight diameter tolerances in the drawn size range, and hence precise configuration of the slug weight.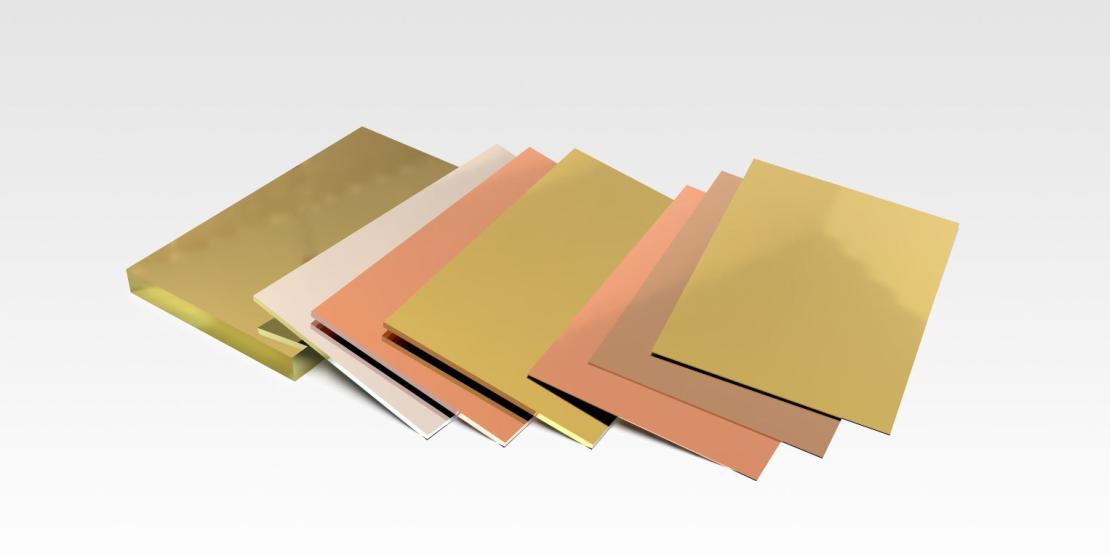 We can offer you a wide range of materials, geometries, and surface qualities to choose from. Many geometries are available from our sheets stores.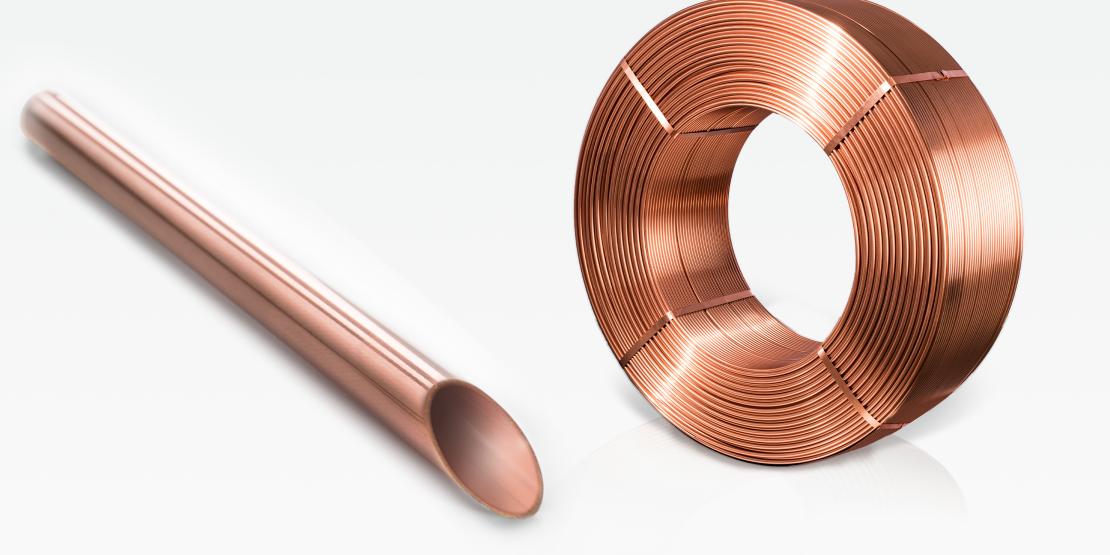 Available materials
| | | | |
| --- | --- | --- | --- |
| Wieland | EN | EN-Nr. | UNS |
| K08 | Cu-OFE | CW009A | C10100 |
| K12 | Cu-HCP | CW021A | C10300 |
| K20 / K21 / K28 | Cu-DHP | CW024A | C12200 |
| K30 | Cu-OF | CW008A | C10200 |
| K65 | CuFe2P | CW107C | C19400 |
| L10 | CuNi10Fe1Mn | CW352H | C70600 |
| L30 | CuNi30Mn1Fe | CW354H | C71500 |
Delivery forms
Level wound coils: 100 kg, 150 kg, 300 kg, 530 kg
Straight lengths
Rings
Materials

K65 - Sustainable and efficient
Sustainable and efficient – two keywords that have had a decisive impact on our time and have gained in relevance in recent years, especially in refrigeration. Increased environmental awareness in society and industry has therefore led to a kind of renaissance of natural refrigerants, especially CO2. Wieland supports this turnaround with a tube system that meets the high requirements of CO2 as a refrigerant.
Wieland K65 tubes have been designed for CO2 applications in the commercial field, especially that of supermarket refrigeration systems. Wieland K65 alloy provides the mechanical strength high enough to withstand the high operating pressures of CO2. At the same time, K65 tubes have outstanding processing properties, similar to those of standard copper (Cu-DHP/C12200).
All Wieland K65 tubes are available in the soft condition (R300/O61) to ensure excellent bending / flaring and collaring properties.
Wieland K65 tubes are offered from stock in two pressure ranges, 80 bar and 120 bar, and in dimensions ranging from 3/8" up to 2-1/8".
Moreover, K65 tubes are also available in individual dimensions and different delivery forms.
For industrial processing, in particular CO2 heat exchanger (evaporator / gas cooler) manufacturing, level wound coils (LWC) are offered.
More K65 products in other categories
Your benefits
Pressure resistance tailormade to your needs
Cost reduction through weight reduction
Proven processing technology: brazing instead of welding!
Excellent heat transfer
Design according to EN 14276 - TUEV or UL certification on demand
Typical applications
Components of R744 refrigeration systems
Fin coil heat exchangers for higher operation pressures (e.g. R744 evaporators or gas coolers )
Shell and tube heat exchangers for higher operation pressures (e.g. R744 evaporators or gas coolers)
Technical properties
Material: K65
Conditions: soft R300/O61 and hard R420/H80
Delivery form: Level wound coils or straight lengths
Coil weights: 100 kg, 150 kg, 300 kg
Available dimensions: 5 - 28 mm for LWC; 5 - 110 mm for straight lengths
Usual standards: EN 12735-1 / EN 14276 / ASTM B 1017
Further information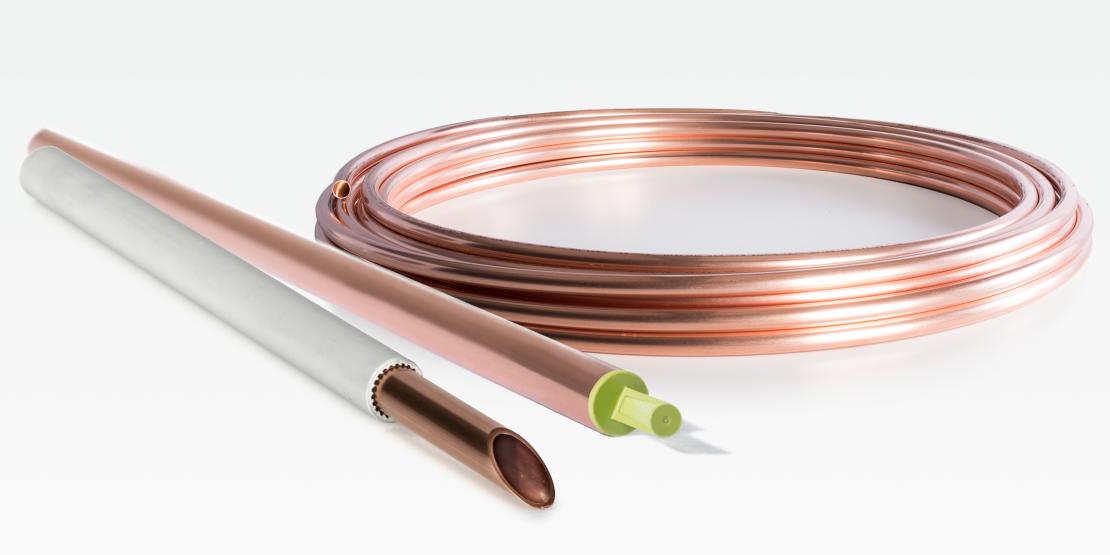 Available materials
| | | | |
| --- | --- | --- | --- |
| Wieland | EN | EN-Nr. | UNS |
| K20 / K21 / K28 | Cu-DHP | CW024A | C12200 |
Materials
For a more sustainable future in construction.
With its 100 % share of recycled material, the cuprolife copper tube makes a sustainable difference, and thus makes a significant contribution to the advancement of building and construction as well as building services.
Every cuprolife tube from Wieland is manufactured in keeping with the mass balance approach – using a process with 100 % recycled copper. As the starting point when verifying cuprolife, TÜV SÜD tested the procedure for calculating the 100 % recycled content*.
The new standard in copper tubes: cuprolife®.
Thanks to cutting-edge manufacturing techniques, cuprolife tubes exceed even the highest requirements. Optimal efficiency and reliability are guaranteed along with an exceptional service life. cuprolife tubes are universally usable. cuprolife is permanently in stock and can be supplied in any size from 6 x 1 mm to 159 x 3 mm.
Fields of application
Domestic hot and cold water supply
Heating
Gas
Liquid gas
Heating oil / biofuel oil B10
Solar systems
Rainwater
Industrial compressed air
Sprinkler systems
Firefighting systems
Technical features
100 % recycled copper*
Design according to EN 1057, quality assured
Made of pure copper Cu-DHP
With quality mark and DVGW certification: DV-7204AU2106 (6 to 159 mm outside diameter)
Universal use in a range of finely differentiated dimensions
Optimum availability and compatibility with a wide range of fittings
Maximum operating temperature at 10 bar operating pressure: 250 °C (applies to dimensions up to DN 150)
Fire resistance: EN 13501-1 – A1 (nonflammable)
Dimensions according to DVGW GW 392 (6 to 159 mm) with closed tube ends
For optimal drinking water hygiene
*Mass balance approach, based on ISO 14021, verified by TÜV SÜD.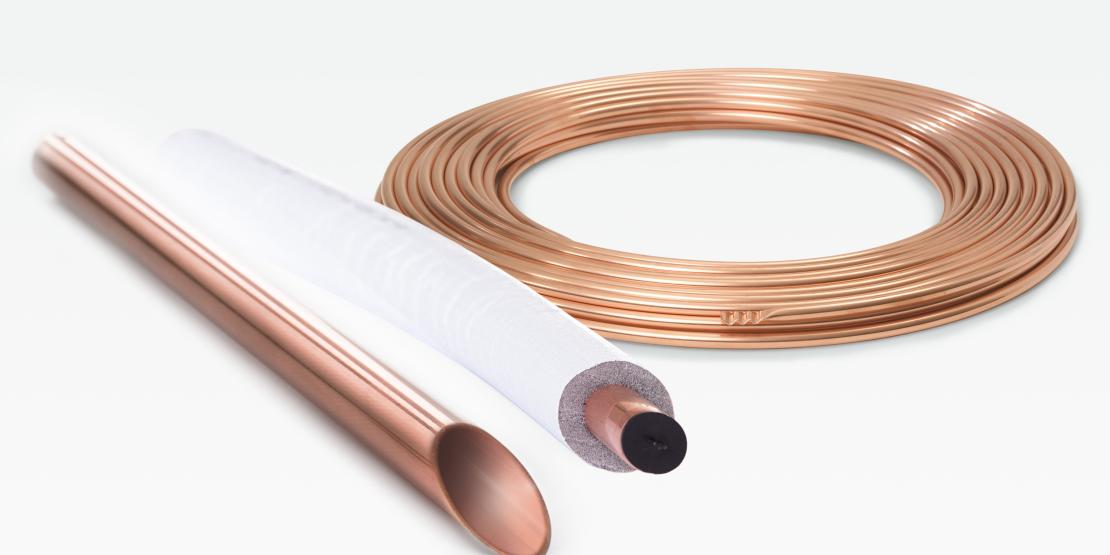 Available materials
| | | | |
| --- | --- | --- | --- |
| Wieland | EN | EN-Nr. | UNS |
| K20 / K21 / K28 | Cu-DHP | CW024A | C12200 |
| K65 | CuFE2P | CW107C | C19400 |
Materials
FRIGOTEC Plus tubes are jacketed copper tubes with high internal cleanliness and closed ends for use in refrigeration and air conditioning. Factory applied PE insulation is 9 mm and provides continuous meter marking.
Material CU-DHP, condition R220.
FRIGOTEC Plus copper tubes are subject to a constricted carbon residue on the inner surface of the tube in accordance with EN 12735-1. The range of dimensions includes 6 × 1 mm to 22 × 1 mm and 1/4" to 7/8". The pipes are ideally connected with >B< solder fittings. The applicable standards and guidelines must be observed during planning, processing and operation. The sheathing complies with fire class E of EN 13501-1 and has a vapor diffusion >7000 μ.
Standards: EN 12735-1 | ASTM B280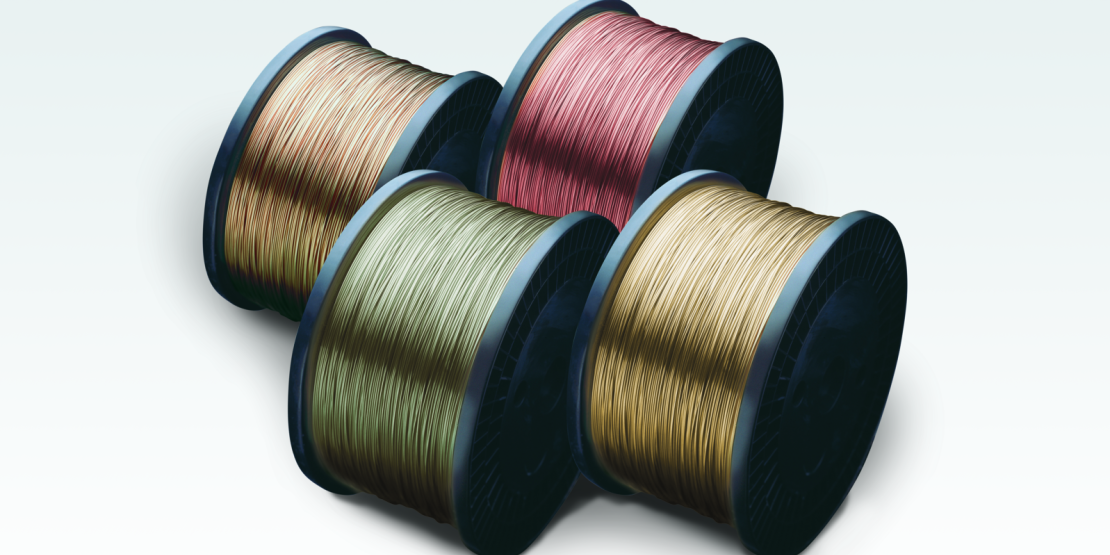 Wieland can offer you wire and sectional  made of a wide range of materials: wrought copper alloys and alloys extending from brass, both with and without lead, to bronze, to German silver. And in combination with material properties, sizes, and geometries, our delivery portfolio can meet virtually every requirement. Simply contact us!
Resources
Information material and important documents for download

Brochures
Contact person
Get in touch - Your contact person at Wieland Moellersdorf
Wieland Moellersdorf Ges.m.b.H.
Lützowgasse 12–14
1140 Vienna
Austria
+43 1 910 86 0
+43 1 910 86 77
moellersdorf@wieland.com
Managing Director
Dipl. Ing. Johannes Pfeil MBA
Registered Office: Wien
Court of Registration: Wien FN117884 i
Data processing register: 0427462
VAT Identification Number: ATU 36896800
Career
Start your career at Wieland Moellersdorf

Already know your search term? Then go ahead and use our full text search. You will get a list of all relevant results.