CO2 reduction with intelligent heat transfer technologies
Wieland Thermal Solutions develops improved propylene heat exchanger for the petrochemical industry
Today, special heat transfer technologies make it possible to achieve an ecologically and economically meaningful contribution to reducing carbon dioxide emissions.
Wieland Thermal Solutions has been developing individual solutions for industrial challenges in cooperation with partners for decades.
In the petrochemical plant of the Austrian plastics manufacturer Borealis AG in Povoo, Finland, a heat pump system has been installed that significantly increases energy efficiency. It uses highly efficient GEWA-PB finned tubes and heat exchanger technology from Wieland. The third partner for the design and layout of the heat exchanger was the engineering company Technip Energies, based in Paris. The example of this joint project shows that improvements can be implemented even in an existing refinery and petrochemical plant and that the development of reliable, sophisticated and sustainable solutions is no longer a fantasy.
Improved reboiler for C3 splitter heat pump
Since the implementation of a heat pump with the reboiler technology developed by the partners, savings in the area of steam generation amounting to around six megawatts have been achieved in the Finnish Borealis plant. The basis for this is the new reboiler/condenser heat exchanger, which works with the patent-protected evaporation technologies. The tube used there, which is improved on both sides, enables maximum heat transfer thanks to a finned surface and is designed for tubular heat exchangers in accordance with the TEMA standard (Tubular Exchanger Manufacturers Association). A major advantage of tubes with a particularly high efficiency is that they minimise the space required for the system. This is because the focus is on compactness, especially when installing new technology in an existing plant. As a rule, retrofits such as these always have to be realised within a given framework and on a limited area.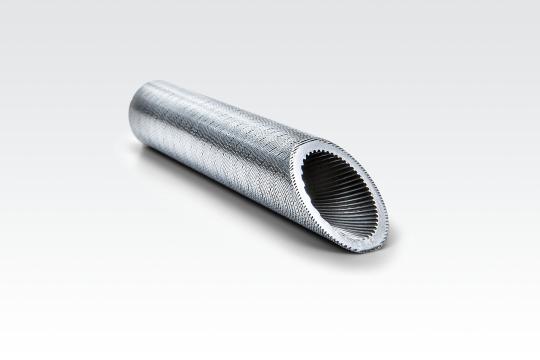 High performance finned tubes for more efficient heat transfer
The GEWA-PB tube is a double improved tube with a nuclear
core boiling structure on the shell side and a finned structure on the
tube side, designed specifically for shell and tube heat exchangers for the process industry.
Renewable energies
Additional energy is still required to drive the compressor in the heat pump. This can be covered either by an electric motor or a steam gas turbine. Borealis decided to shift from steam to electricity - 1.3 MW were needed at this point. In line with Borealis' strategic sustainability framework, this electricity increasingly comes from locally generated renewable sources, especially wind turbines. In this way, successfully effective energy efficiency measures are optimally combined with the use of renewable energies and the CO2 footprint is sustainably reduced.
No fantasy: solutions for practice
Close cooperation between all process partners is crucial for the development of increasingly effective heat exchanger solutions and their design implementation. As a manufacturer of sophisticated heat transfer technologies, Wieland has therefore been relying on partnerships in industry for over two decades. As individual as the individual challenges may be: The aim is always to sustainably increase the effectiveness of a system and enable the end customer to make a noticeable contribution to reducing CO2 emissions.
At a glance
Wieland Thermal Solutions develops improved propylene heat exchanger for the petrochemical industry
Implementation of improvements also possible in existing refinery and petrochemical plants
Close cooperation of Wieland Thermal Solutions with all process partners