Drastically reduced: OVUM needs a quarter less refrigerant
The refrigeration and air conditioning industry is currently dealing with one topic like no other: The EU F-Gas Regulation and its consequences. The year 2018 brought a considerable price increase for established refrigerants. The Austrian company OVUM was able to reduce the refrigerant load in its heat pumps drastically with a solution from Wieland.
The EU Regulation 517/2014 (F-Gases Regulation) has been in force since 01 January 2015. It prescribes the reduction of fluorocarbons (HFCs) and other gases with a high global warming potential in the EU for the refrigerant industry and importers, and is the driver of an enormous price explosion for these refrigerants. By 2030, for example, the quantities of hydrofluorocarbons (HFCs) placed on the EU market must be gradually reduced to one fifth of today's sales volumes. A significant milestone was reached in 2018 - in comparison to the previous year, around 30 percent less of the affected refrigerantes were allowed to be placed on the market. "The F-Gas Regulation has several consequences: on the one hand, it leads to a shortage of classic refrigerants on the market and thus to significantly higher prices. On the other hand, refrigerant manufacturers have brought a large number of substitutes onto the market with which our customers do not yet have any experience," explains Steffen Rieger, Director Sales & Technical Marketing, Thermal Solutions at Wieland.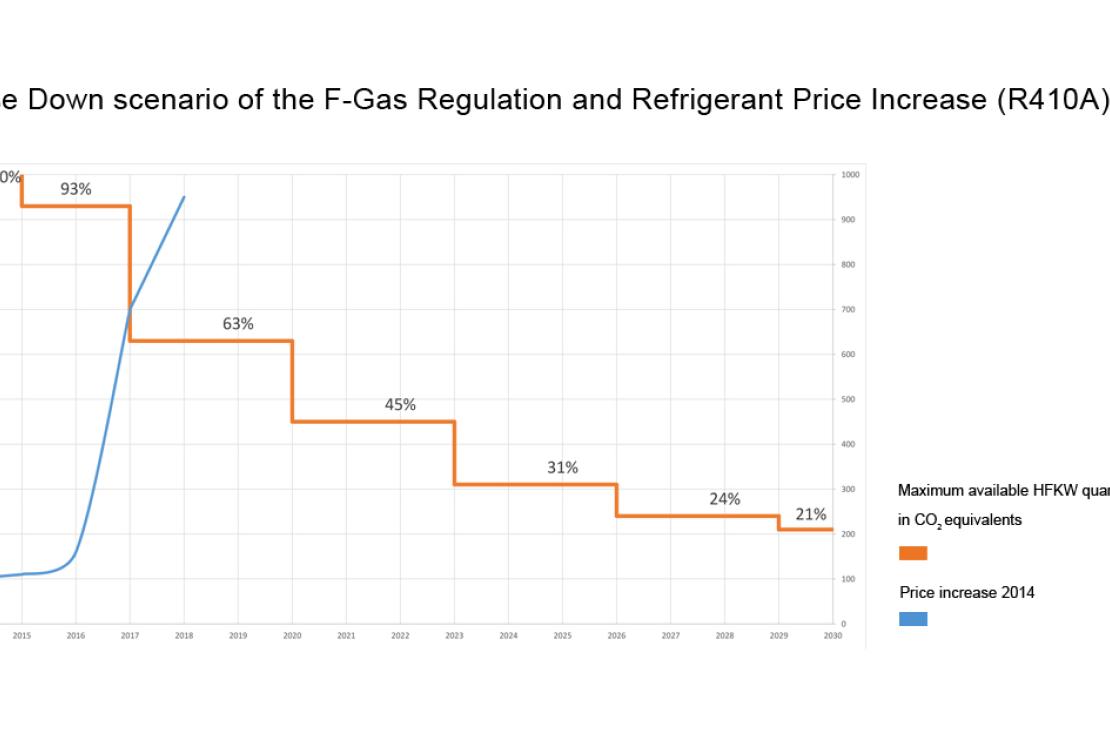 Proven technology redefined
Wieland supports customers on several levels. To clarify the efficiency of substitutes, the thermodynamic properties of new refrigerants are tested in the company's own laboratory. "We are currently testing a lot of new refrigerants to provide our customers with heat transfer data," says Steffen Rieger. "With the help of this data, heat exchangers can be designed more efficiently". In addition, the company's own products are also being further optimized. An important example is the performance improvment per meter of tube due to modified surface structures. Heat exchangers can be designed more compact and material as well the amount of refrigerant can be reduced by using tubes optimized for the heat technology.
NHWP compact heat pumps
For hygienic hot water via fresh water technology - Whether cold or hot water - it always comes fresh out of the tap.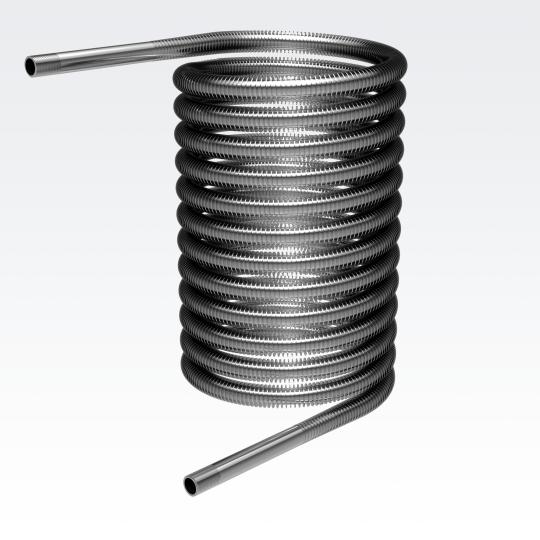 Wieland GEWA-D Finned Tubes
Efficient heat transfer with carbon steel finned tubes in buffer tanks.
Wieland's comprehensive materials and forming expertise provides additional support. "We have now succeeded in transferring structures, that exist in copper products for a long time, to materials that are difficult to form," Rieger explains. This way, tubes made of materials that are difficult to form, such as steel, stainless steel and titanium, can now also be supplied in finned versions. This opens up new possibilities for many applications in which so far smooth tubes are used as standard. "Using a finned tube instead of a smooth tube makes it possible to build a heat exchanger 20-30 percent shorter. This saves not only material but at the same time 20-30 percent refrigerant," Rieger emphasizes.
Innovative solution for less refrigerant - cool and award-winning
Exactly this kind of solution has recently been implemented at OVUM Heiztechnik GmbH. Founded in 2014, the startup builds heat pump systems and hot water heat pumps, for which it has been recognized with the Award for Innovation from the Austrian state and the Futurezone Award 2017. The young company's willingness to innovate is also evident in the rapid adaptation of its product to the new market conditions. "We were looking for a way to achieve the same performance with less refrigerant," says Armin Hofreiter, project leader at OVUM, "when Wieland offered us the opportunity in 2017 to manufacture our heat exchanger in steel, we were immediately interested."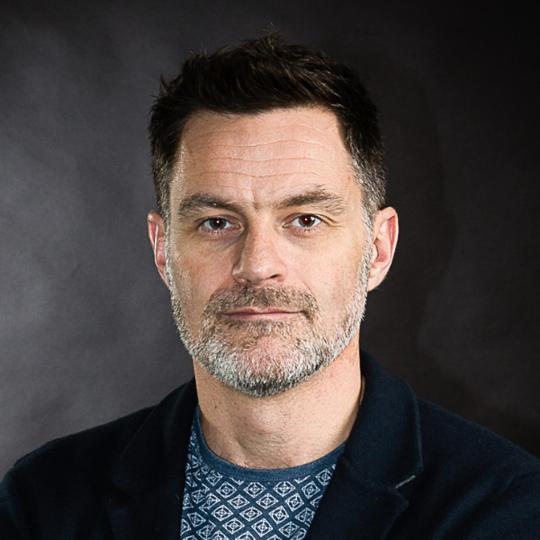 A. Hofreiter, Project Leader
»With the finned tube heat exchanger from Wieland, we were able to reduce the refrigerant in our products by around 25 %.«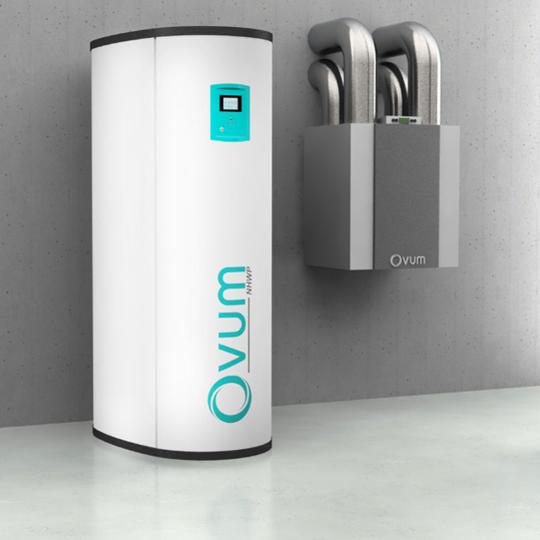 OVUM Heiztechnik GmbH
OVUM Heiztechnik GmbH develops and produces smart products for heat pump heating systems.
Just one year later, OVUM was able to deliver the first systems with this solution. The heat exchanger from Wieland scores multiple points: The large outer surface of the finned tubes reduces the tube length. The condenser is more compact and can be installed in the buffer tank for maximum efficiency in the colder area of the buffer tank, and the heat exchanger is much lighter. This simplifies transport and installation of the entire system. And finally, less refrigerant is needed for operation: "We used to need 4 kilograms of refrigerant, but now we need around 2.9 kilograms. With the finned tube heat exchanger from Wieland, we were thus able to reduce the refrigerant in our products by more than 25 percent." And that is good for the wallet and the environment.
How to optimize your buffer tank:
Heat exchangers made of GEWA-D finned tubes enable significantly more energy content.
1:47 min
Less refrigerant and sustainable alternatives due to Wieland solutions
In order to operate sustainably and with a view to the future, it is essential for planners and plant constructors to switch to alternative systems solutions with less or environmentally friendly refrigerants at an early stage. The EC Regulation 517/2014 is already leading to a shortage of refrigerants and an increase in their prices. Wieland will support you with individual assistance and suitable product solutions.
At a glance

The EU regulation on fluorinated greenhouse gases is increasing the prices of synthetic refrigerants with a high global warming potential.

Wieland supports customers with thermal data of alternative refrigerants, and product solutions that can significantly reduce refrigerant loads in air-conditioning and heating applications.

OVUM relies on a finned tube heat exchanger made of Wieland steel and benefits from the compact design and reduced refrigerant requirement.