Cooperation for sustainable mobility
The roads of the world are becoming electric. Carmakers and parts suppliers have long seized this opportunity. Yet our engineering partner IAV does not intend simply to follow this trend, but to have an active moulding influence on this change. Accordingly, this Berlin company developed its own fully electric drivetrain – with Wieland as its partner.
A high performance, scalable expertise product suitable for series production – this was the objective targeted by IAV. For the development of the electric motor in the drivetrain, the company collaborated first with local manufacturers. It soon became clear, though, that conventional production methods for the squirrel cage windings in the asynchronous copper rotor machine caused structural problems. "Neither casting nor brazing the rotor in the cage bring about the desired results. We then spoke with Wieland on how to rework the prototype for laser welding with the Wieland tools," said Jens Liebold, specialist in electromechanical drive systems at IAV.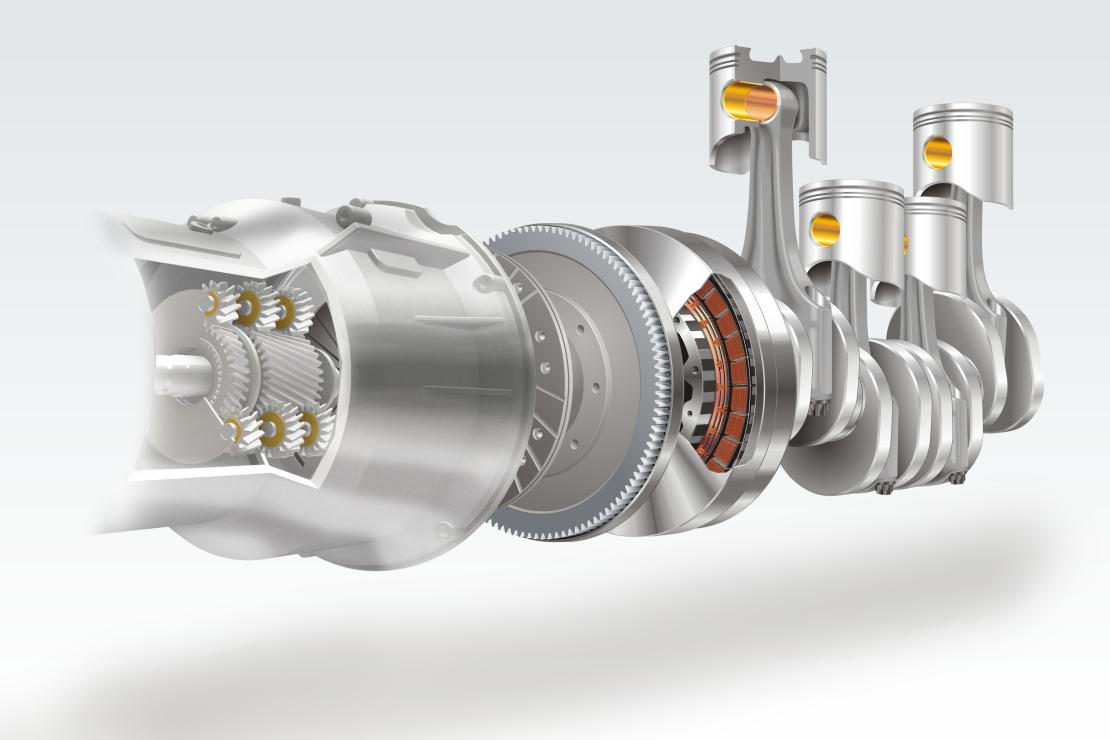 Commented cross section through the electrical machine
Not only the production options, also the Wieland expertise in copper materials tipped the scales in favour. "The basic idea was to use copper for that part of the rotor responsible for torque generation. The reason was that copper as an electric conductor is better than the usual aluminium," explained Liebold.
A patented design delivers performance
Development eMobility at Wieland. Unlike conventional rotors, the patented design also allows considerably higher rotary speeds, increasing the performance of the whole drivetrain. The Wieland rotor presents obvious advantages for its manufacture too. Individual parts such as rotor bars and end rings can be mass produced easily, quickly, and at relatively low cost. Laser welding also accelerates production, for the material is ultra heated locally only. The outcome is shorter cooling times prior to the downstream processes. Moreover, the layout is so flexible that it is easily scalable. For high performance applications, various material combinations can be used in the end ring.
Whether individual system components for electric motors, contact carriers in permanently excited synchronous motors, engineered copper rotors in asynchronous machines, or special bimetals, specifically for electrified and hybrid automotive drivetrains — Wieland develops components for alternative drive technologies and supports the sector with a high level of expertise from the development to mass production.

Learn more about components for eMobility
Partnership with prospects
Since this initial joint project, Wieland and IAV have been cooperating on a regular basis. "We share our ideas on the state of the art and discuss new joint projects on the research side. And we're thinking about the Wieland production technologies that can help us to make our electric motors even better," said Liebold. At all events, the cooperation on the modular electric drivetrain has paid off. Supported by Weiland, IAV succeeded in developing for its customers an asynchronous machine with integrated differential that is more efficient and delivers greater performance than would be possible with conventional rotor technologies. Not only that, the solution is also economical for larger series runs with high piece numbers.
At a glance
The engineering partner IAV needed a new copper rotor solution for its development of an electric drivetrain.

Wieland developed a patented high performance rotor design that is both scalable and extremely economical in production.

IAV can provide its customers with an efficient and flexible solution.