Smooth and innergrooved tubes
Wieland manufactures tubes tailored to customer requirements and the highest quality standards according to individual demands for a wide range of applications.
We burn for your individual requirements. Complex process sequences, continuously changing requirements and international competition pose ever new challenges for your company. With our customizing services we are able to master them together. This includes customer-specific services that allow you to break new ground, such as special qualities in strength and hardness, customer-specific product developments in form and function, as well as individual logistics solutions.
Our range of products
Our smooth and innergrooved tubes at a glance.
Smooth industrial tubes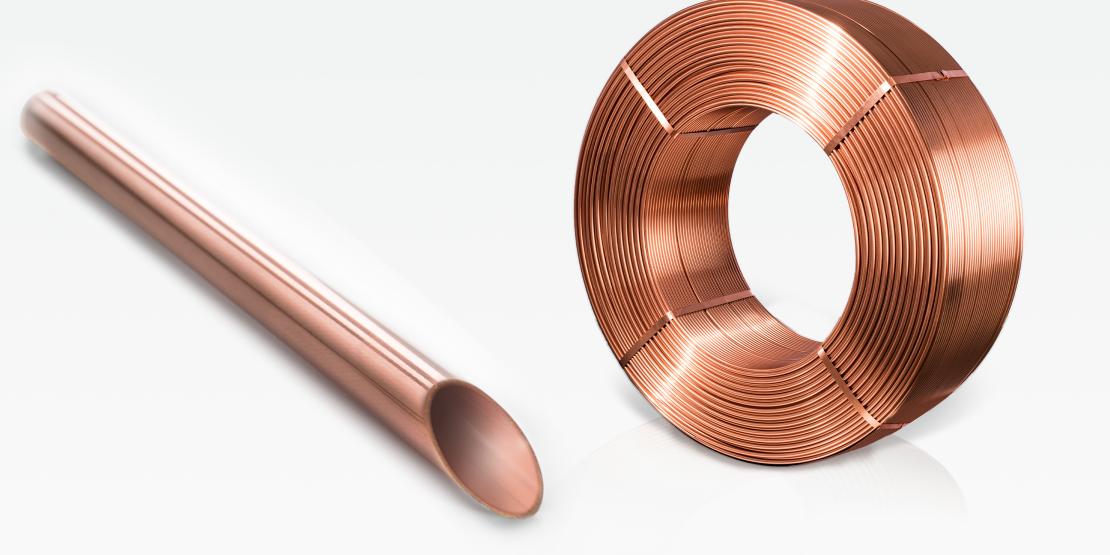 Available materials
| | | | |
| --- | --- | --- | --- |
| Wieland | EN | EN-Nr. | UNS |
| K08 | Cu-OFE | CW009A | C10100 |
| K12 | Cu-HCP | CW021A | C10300 |
| K20 / K21 / K28 | Cu-DHP | CW024A | C12200 |
| K30 | Cu-OF | CW008A | C10200 |
| K65 | CuFe2P | CW107C | C19400 |
| L10 | CuNi10Fe1Mn | CW352H | C70600 |
| L30 | CuNi30Mn1Fe | CW354H | C71500 |
Delivery forms
Level wound coils: 100 kg, 150 kg, 300 kg, 530 kg
Straight lengths
Rings
Material designation

K65 - Sustainable and efficient
Sustainable and efficient – two keywords that have had a decisive impact on our time and have gained in relevance in recent years, especially in refrigeration. Increased environmental awareness in society and industry has therefore led to a kind of renaissance of natural refrigerants, especially CO2. Wieland supports this turnaround with a tube system that meets the high requirements of CO2 as a refrigerant.
Wieland K65 tubes have been designed for CO2 applications in the commercial field, especially that of supermarket refrigeration systems. Wieland K65 alloy provides the mechanical strength high enough to withstand the high operating pressures of CO2. At the same time, K65 tubes have outstanding processing properties, similar to those of standard copper (Cu-DHP/C12200).
All Wieland K65 tubes are available in the soft condition (R300/O61) to ensure excellent bending / flaring and collaring properties.
Wieland K65 tubes are offered from stock in two pressure ranges, 80 bar and 120 bar, and in dimensions ranging from 3/8" up to 2-1/8".
Moreover, K65 tubes are also available in individual dimensions and different delivery forms.
For industrial processing, in particular CO2 heat exchanger (evaporator / gas cooler) manufacturing, level wound coils (LWC) are offered.
More K65 products in other categories
Your benefits
Pressure resistance tailormade to your needs
Cost reduction through weight reduction
Proven processing technology: brazing instead of welding!
Excellent heat transfer
Design according to EN 14276 - TUEV or UL certification on demand
Typical applications
Components of R744 refrigeration systems
Fin coil heat exchangers for higher operation pressures (e.g. R744 evaporators or gas coolers )
Shell and tube heat exchangers for higher operation pressures (e.g. R744 evaporators or gas coolers)
Technical properties
Material: K65
Conditions: soft R300/O61 and hard R420/H80
Delivery form: Level wound coils or straight lengths
Coil weights: 100 kg, 150 kg, 300 kg
Available dimensions: 5 - 28 mm for LWC; 5 - 110 mm for straight lengths
Usual standards: EN 12735-1 / EN 14276 / ASTM B 1017
Further information
Contact person
Get in touch - Our experts for smooth and innergrooved tubes

Already know your search term? Then go ahead and use our full text search. You will get a list of all relevant results.