Higher efficiency for the domestic hot water heat pump
The new Wieland Safety Heat Exchanger is top in safety and efficiency
With the newly developed Wieland Safety Heat Exchanger, the air/water hot-water heat pump is particularly cost-effective, low in maintenance and energy-saving. The heat exchanger is installed directly in the hot-water tank, ideally in the colder lower part. In the design of the heat exchanger, we have attached importance to achieving optimum heat transfer with minimum use of material.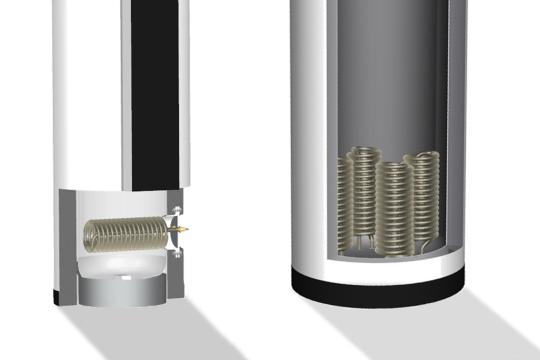 The Wieland Safety Heat Exchanger is directly immersed in the domestic hot water storage tank for best heat transfer without any losses. The double-walled design ensures safe heat recovery of supermarket refrigeration for drinking water.
Our offer for you
Development of highly efficient heat transfer surfaces
Product design and construction
Heat transfer laboratory with precise testing equipment
The heat pump therefore achieves peak COP values measured according to EN 16147. Security against contamination is provided by the double-wall GEWA-safe tube that makes any leakages recognizable through the standard-compliant leakage gap. A mixing of drinking water and refrigerant is impossible. The innovative Wieland Safety Heat Exchanger not only offers you absolute reliability but also meets the highest efficiency standards.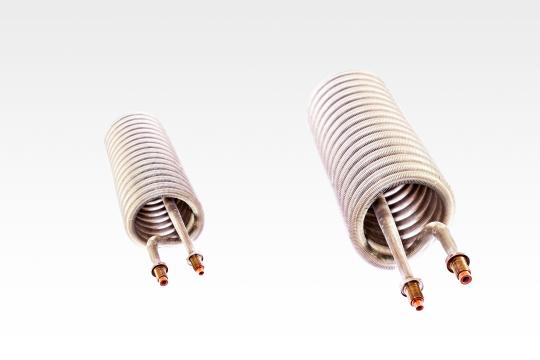 Direct condensation in the hot-water tank is particularly energy-saving. Unlike, for example, the wrap-around variant, the Wieland Safety Heat Exchanger operates with minimal temperature differences due to direct contact with the water in the tank and heat loss is prevented.
Customized Wieland Safety Heat Exchanger flex
Flexible designs, tube variants and tin plating of the outer surface – individually according to your requirements.
4 good reasons for the Wieland Safety Heat Exchanger series
Low cost | Minimum usage of refrigerant and material combinded with increased efficiency!
Efficient | Highest COP values according to DIN EN 16147 possible by installing the heat exchanger directly in the storage tank
Safe | Absolutely reliable media separation with double wall tubes
Easy handling | Simply mounting and dismounting