SANCO
Pure Copper for clean water.
Copper is considered very resistant and retains its optimum quality even after decades. Stresses such as temperature, pressure and aging are withstood by SANCO branded copper tubes, giving them an unexcelled service life.
Made of 99.9% pure copper, SANCO pipe is characterized by a particularly high level of purity and guarantees the highest drinking water quality all the way to the tap.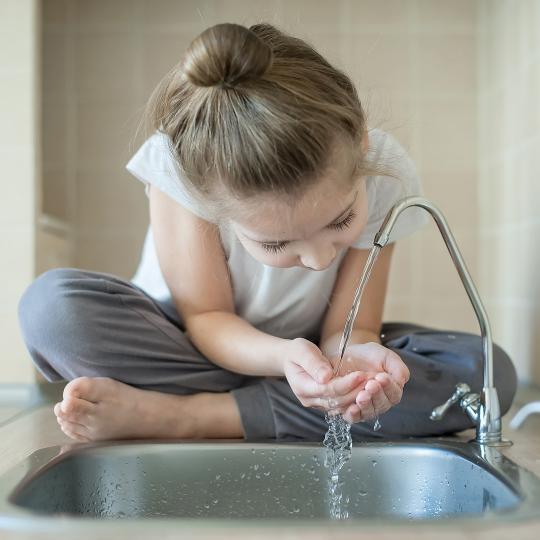 Sustainable building technology for generations
Unlike plastic and aluminum-plastic multi-layer tubes, copper tubes can be recycled completely and as often as required. With a wall thickness of just one millimeter, this precious raw material is used particularly economically in SANCO's production.
In addition, copper tubes have above average durability and do not lose their quality even after years of use. The use of copper tubes is therefore recommended for environmentally friendly construction, which is geared towards sustainability and a long service life of the domestic installation.
standard dimensions
constantly in stock
0%
risk of pitting corrosion*
* professional installation provided
perfectly suitable for new construction, modernization and renovation
pure material with excellent thermal and anti-microbial properties
also visually appealing as a surface-mounted installation thanks to its smooth surface
for decades the first choice for cold and hot water pipes, heating water as well as for the transport of oil, gas and liquid gas
compatible with fittings from various manufacturers
There are many reasons why SANCO tube is Europe's most installed bare copper installation tube. Copper is the only pipe material in drinking water installations for which all approved disinfection processes can be used without restriction within the framework of the applicable specifications.
The SANCO tube is the convincing result of intensive development work and advanced production technology. In addition, SANCO meets all standards for building services and covers all quality requirements of currently valid regulations in new construction.
SANCO tubes are available in rings and rods in a wide range of dimensions from 6 to a maximum of 159 millimeters in diameter and are characterized by high straightness and dimensional stability. As a result, significantly fewer fastening clamps are required and installation is less time and material intensive. SANCO tubes can be cold bent up to and including 28 x 1 mm.
Because they are compatible with fittings from a variety of manufacturers, installers have access to a wide range of connection techniques that are reliable and have been proven many times over. In addition, SANCO tubes meet all the requirements of current European standards as well as regulations and therefore offer an additional plus in terms of safety compared to conventional copper tubes. They are DVGW-tested and have the RAL quality mark – for use in the drinking water sector without hesitation.